"Songwriting, novel writing, filmmaking, film scoring . . . they all stem from my love to tell stories" Sam Hurwitz
Some people learn to play an instrument and sing, then decide they want to write songs. For Sam, it was the opposite. It seems that melodies and words/stories were swirling around in his head and when he picked up a toy guitar at age 2, he started strumming and making up little songs. For the next few years, he had several little songs but couldn't actually play an instrument. He even tried to play the harmonica around age 3, trying to emulate some of the music he was hearing at that age, but was too small for the harmonica rack. At age 6, he started guitar lessons and his first real songs were written.
Just shy of Sam's 8th birthday, Sam had his first live performance in a Songwriters Circle, and for the next few years Sam performed in school and camp talent shows and local open mics and was a finalist in a local talent search (doing original songs and the youngest by several years). Sam had terrible stage fright during these years, but when he got on the stage you could never tell. He has worked through his stage fright and loves to be on stage now.
Up until about 2015, Sam's songs were just streams of consciousness and improvised on the spot, yet from the earliest age, the phrasing in some of his songs was far beyond his years and already starting to be filled with visual imagery. Sam's mom says: "As a natural storyteller and a decent way with words, a lot of what just came out was good, but as he got older we encouraged him to write with more intention (or at least go back and edit what just came out)." In the summer of 2015, Sam attended a creative writing camp and wrote his song "Without a Rhyme" during that time.
It was the first time he had a melody and then sat down at a computer and wrote the lyrics with thought. Regarding his more recent songwriting, Sam says:
"Usually when I sit down with the intent to write a song, nothing comes to me. Sometimes the lyrical ideas and themes are already in my head and then I go to the guitar or piano to write a melody first and then take the idea and theme in my head and write the lyrics. Other times, the melody comes first and I try to find lyrics that fit that melody."
After a few of Sam's songs landed on the weekly independent chart, FabChart, Sam started to grow a small fan base. Sam's mom says: "He's a pretty reserved guy and not great at self promotion and he is very grateful for the amazing people who have supported him by sharing his songs on social media." Sam's song "Without a Rhyme" has garnered Sam the most attention. He was showcased as a Daily Discovery by American Songwriter Magazine website and also was a nominee for the American Songwriting Awards for this song and this song also was Number 1 on the weekly independent music chart in the UK, called FabChart.
Sam spends a lot of time writing stories and has also written some poetry and some his latest songs like "Phoning Fate and The Past" and "Everlasting Oak" are great examples of Sam taking a more poetic view to his songwriting. With "Everlasting Oak", he wanted to create a song with strong visual imagery and felt that a song about nature and trees would be a good fit. "Everlasting Oak"is currently at number 4 on the FabChart.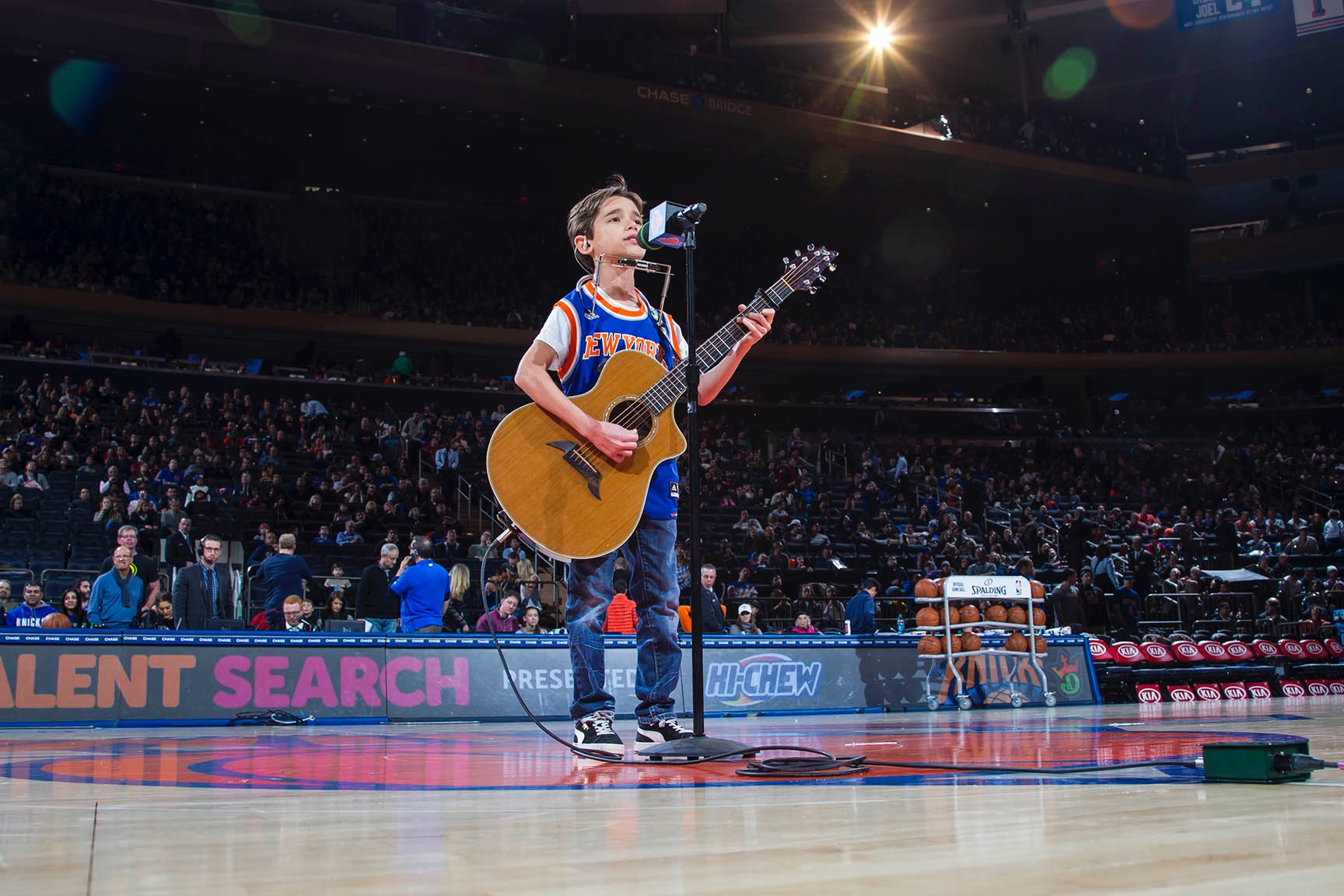 Some highlight gigs over the recent years were the NY Singer Songwriter Sessions at The Bitter End, performing at a halftime show for the NY Knicks at Madison Square Garden and at a Gala for the Stuttering Association for the Young. Sam's had a stutter since the age of 3 and he was asked to write a song specifically for this event. Sam's mom says: "It was hard for him as he never had to write a song with a specific message before. But he worked really hard and the song came out great!" Sam has a few local gigs coming up in September, but otherwise, he is enjoying the final days of summer and getting ready to start High School.
During Sam's free time, he loves to read, watch movies, write stories, compose original film scores, and play video games. Sam self published his first book in a 5 part fantasy series called the Wonders of Waywill and was very excited that he won an honorable mention in a writing contest for this book. Sam says his favorite genre of books and movies are fantasy and sci-fi. His favorite book series is Harry Potter and his favorite movies are Star Wars, Lord of the Rings, Inception, and the film adaptations of Harry Potter. His favorite games are Minecraft and the Knights of the Old Republic series. His favorite bands are Wilco and the Avett Brothers, and he also love film music by composers such as John Williams, Howard Shore, and more.
Sam says that he thinks a lot of his interests are connected by storytelling. "Songwriting, novel writing, filmmaking, film scoring . . . they all stem from my love to tell stories"
This is not Sam's first appearance on this promotional network: Sam was featured in his first article here on Feb 25, 2015 SEE THAT ARTICLE HERE!
Don't forget to follow Sam on his social media accounts:
Article by: Remko de Keijzer