The Rivenmaster Network has introduced many young artists over the years but there are only a handful who stay the course. This group of persevering young artists are the ones who continue to grow their careers in astonishing ways as they gain more and more respect within the Entertainment Industry.
Canadian Actor, Singer, Songwriter, and Performer Beamer Wigley is one of these young artist that just keeps on amazing us with bigger and more notable accomplishments.
Much has happened for Beamer since the last update.  He has continued to win multiple awards, including one that he is especially proud of, the Inaugural Penticton and Region Youth Arts Award for ages 25 and under in 2014. He has also continued with his acting career, adding another musical theater performance in the challenging role of "Toby' in Sweeney Todd followed the next year with various vocal lead roles in Broadway Musicals in Concert.  He also was 4th lead in the Normal Rockwell movie, " A Christmas Tail".  He continued with his vocal training in both classical and theater, and in competitions at the annual Kiwanis Music Festival, he won 1st place in both, then was invited to the Provincials for musical theater where he also won first place for that as well as Musical Variety.
Through his management, Invictus Entertainment Group and Big Star Recordings, he has enjoyed the opportunity of opening a number of larger events, including three times for the Canadian country star George Canyon, as well as recently for another country star and chart leader Aaron Pritchett.   In around those, he has enjoyed many of his own slots including the nationally televised 'Childrens Variety Telethon' in Vancouver plus a multiple appearances at major festivals.  In 2016, he was invited to open the B.C. Winter Games in his home town, and for the first time he played his set with a full band in front of 5,000 attendees, including a song that he had co-written specially for that event.
In the fall of 2015, he traveled to Las Vegas to meet personally with the legendary rock star photographer, Robert M. Knight, well known throughout the music industry for his the long list of famous performers credits including Jimmy Hendrix, Led Zeppelin, Stevie Ray Vaughan, Jeff Beck, Santana and many others. (http://robertmknight.net/).   During that visit, Robert did a beautiful photo shoot in a desert ghost town outside of Vegas and then introduced Beamer to Music Man/Ernie Ball Guitars, which very soon afterwards became an endorsement for him from that company.  He also got him into the Brotherhood of The Guitars, a worldwide group of highly talented younger musicians from many different countries.
All through these months he continued to write and co-write songs, and in the spring of 2016, he started recording his first album with two highly regarded producers.  He then made his first official music video to support his first release, 'Meteorite" from the album of the same name. Meteorite was released to I-Tunes and radio in mid-July and already has enjoyed radio play across the country and is receiving high acclaim. It even beat out songs by both country legend Toby Keith and Jason Blains on a major radio challenge show.  The video aired exclusively on YTV over a two week period before going on a one week digital exclusive with Vents Magazine.  It was then released publicly on Youtube July 27th.
Meanwhile Beamer filmed his 2nd music video to support the upcoming release of his next single, 'Boombox'.  The date for that release has not yet been set.   His album will debut on Sept. 9th in London Ontario during the annual CCMA Awards.    He will also be performing during that event at 'Diamonds in The Rough' as well as alongside other major artists at the Invictus party.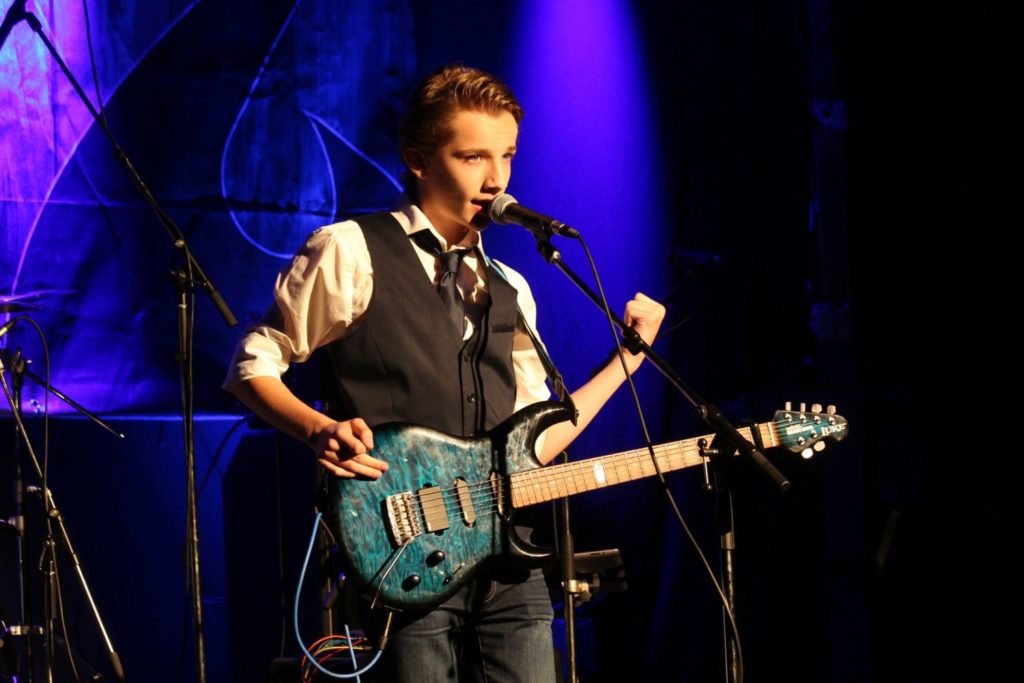 Although his 1st album has not yet been released, Beamer continues to write new songs to include in his 2nd album which he hopes to start recording early in 2017.    In July and August this year, he's also in the musical theater show 'Grease', where he plays the role of Roger (from the Broadway version), one of the rocking T-Birds!  In among all of this, he managed to fit in two radio tours in throughout B.C. and Alberta to promote himself and his new single.
Beamer Performs Dallas Smith's – One Little Kiss live
This fall he plans a return trip to Nashville to do some more co-writing and meeting more industry people.    Beamer knows how difficult the music industry can be for up and coming artists, and he is working hard to continue to improve his skills, create new music and continue the dream that started when he was 5, to become a successful country artist like his idol, Keith Urban.
For more about Beamer Wigley Visit: