2015-2016: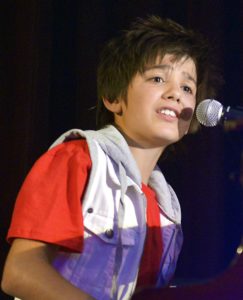 If this is your first introduction to Henno William I have to wonder where you have been. A little over 3 years ago, South Africa's Got Talent awarded Henno with the Golden Buzzer for his performance of "Let it Be". This performance rocketed Henno's musical career and sent his Social Media status to the stratosphere.
Of course, that was only the beginning of Television interviews, Radio shows, and a host of other media outlets all trying to get in touch with this 12-year-old musical prodigy.
Shortly after that he was showcased on this website and on Torchlight Talent in his first introductory feature articles. Since that time Henno William has grown not only physically but his vocals have matured and he is sounding better than ever!
Following his extraordinary semi-finalist performance of his own brave version of "Somebody to Love" on SAGT, Henno started being noticed by many professionals in the entertainment industry. By the end of 2016 he was already signed by NYC-based music executive, Kevin Liles. All the while he was consistently releasing new covers on YouTube as well as launching two amazing originals "Beauty Queen" and "The Best Part". This proved that Henno was truly ready for even greater things.
2017-2018:
In the summer of 2017 Henno was invited to attend Prodigy Camp, a prestigious summer camp located in the beautiful mountains of Seattle, WA. The camp, run by Director Rick Stevenson has proven to be most rewarding for numbers of young musicians, actors, and singers from all over the world. Those of you who follow this site know of others in the past who have been awarded scholarships to this camp. Like those previous young artists, Henno more than deserved this rewarding opportunity.
At camp he was honored to work with music producer Andy Park who has produced for big names like Arianna Grande. It was during this camp that Henno recorded his single, "Going Nuclear" in a tiny make-shift studio in the middle of the woods.
Watch his live performance of that single!
The Camp Experience:
"My adventure at Prodigy Camp was filled with excitement" Henno says, "crafting new tunes, bonding with fellow musicians and learning from songwriting professionals like Tyson Motsenbocker and Kris Orlowski."
Henno spent seven days constantly making music (workshops and one-on-one songwriting sessions). "The memories of campfire stories and tubing on the lake are priceless and the songwriting sessions will aid me for the rest of my life."
Here is Henno hanging with William Franklyn-Miller, & Dorian Duta at camp
Now:
Like many young male recording artists whose career takes off before their voice breaks, I was not surprise when an entire year went by and Henno went a bit silent. I asked him to briefly sum up how that experience affected him. He exclaimed;
"Learning to adapt to my new voice was scary at first. After working with my vocal coach, however, I discovered that my voice had become bigger and better than before. I can't wait to get back on stage and perform.
My dream is to release an album later this year or early next year."
While Henno was working through his voice break last year he joined his church's worship team. Through this, he has grown both spiritually and emotionally. He also spent a lot of time developing his piano playing skills.
In 2019, Henno wants to share his musical growth with all his supporters and has dedicated himself to post new covers on YouTube every Tuesday. Here is his latest offering.
Here is Henno's latest Tuesday Tune from his YouTube Channel
Getting to know more about Henno, and communicating with his Dad has been a real joy over the past few years. Watching Henno grow and expand his musical prowess has made me even more than a believer in where he is headed in the near future.
Out of more than 150 young artists that have appeared here, there are few that stand out like Henno William. His good looks, charm, and humble attitude is only superseded by his extraordinary musical talent.
I wish you nothing but success both now and in the future!
For more about Henno William visit: