"You remind me of a young Paul McCartney." Katy Perry
"Your level of talent is staggering. If this is what you do at 15, I'm afraid of you." Lionel Richie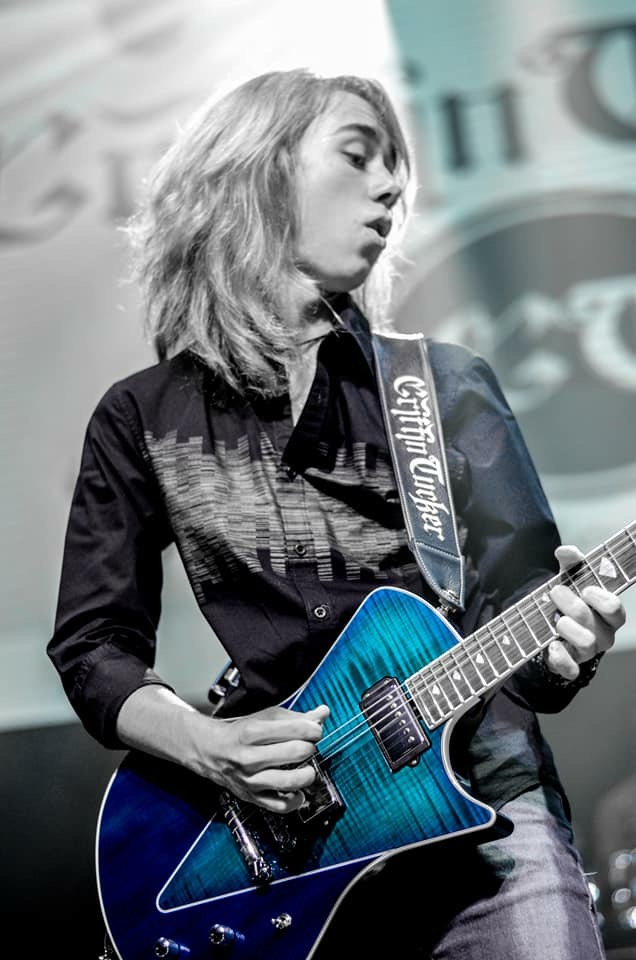 Just two of the comments Griffin received after being on "The Voice". These are comments you can be proud of!
But who is this Griffin Tucker Katy Perry and Lionel Richie spoke so highly of? As described in the title, he's a rocking multi-instrumentalist from Texas.
Griffin was born in October of 2001. Most kids his age listen to and create electronic music or R&B not rock. So how does a young rock artist crack today's music code of formulaic beats & electronic music? First, he must have a disobedient music spirit that can surpass the industry saturated by man-made music; next he must obtain enough cultural significance like rockers from the past & add in sincere, stirring passion. Griffin's "no excuses" rock act delivers all that and more! He doesn't conform to his predecessors or fall in line with what is already out there. Instead, he's created his own musical path for the retro rock sound his "GrifFANS" live for.
Griffin's legacy of stage experience started at 8 years of age & has continued with a full cycle of alternating years learning to play each instrument of rock. And he's played hundreds of shows: with Disney artist Zendaya, at The House of Blues, The Granada, The Gas Monkey, Gilley's, Lava Cantina and Westfield Presents London, just to name a few. He was also selected to be in the Beatles documentary, "Scream & Shout: 31 Days That Changed America Forever".
At the age of 13, he won the Texas Ten under Twenty guitar competition at the Dallas International Guitar Festival. But make no mistake – he is equally equipped on drums, piano, bass, mandolin & ukulele to name a few. And he can sing!
In 2016 & 2017, Griffin won 3 categories at London's prestigious Fab Charts Awards for best male artist, best video & best song! He appeared on "THE VOICE" and also was nominated Indie Guitarist of the Year in London winning by a landslide. He also received 3 out of 3 nominations at Nashville's famed JOSIE Awards for Artist of the Year, Entertainer of the Year & Vocalist of the Year. Then, Griffin was asked to join the prestigious BROTHERHOOD of the GUITAR and represent Music Man Guitars & Ernie Ball Strings.
In 2018, he scooped up FHR Radio Entertainment's RISING STAR award for Male Artist, a nomination made by industry professionals and voted on by the public. Also in 2018, he was nominated again by the Fab Charts, the Josie Awards, Radio Wigmam & Indie Star Radio for Best Male Artist & other categories. Griffin was also nominated for the highest designation an artist can receive from the Texas State legislature, "Texas State Artist – State Musician". Meanwhile in California, Griffin earned a GOLDEN TICKET to Hollywood on American Idol & received high praise from Katy Perry & Lionel Richie for his level of talent & musicianship.
The Voice and American Idol were great experiences for Griffin. He met many wonderful people, and reconnected with some old friends. Both shows gave him the chance to reach more people that he might not have been able to without doing them. He's glad he got the opportunities, but he's definitely ready to move on to greater things!
Griffin's been releasing singles since the age of 11, his debut EP, "Believe It" dropped in 2017 & every song on it became an instant GrifFAN fave. This album rocks like none you've heard in recent times! From the powerful ballad "Some Kind of Love Song" to anthem "Believe It", you might wonder how many great musicians were needed to bring this amazing album to life. The answer is ONE: Griffin Tucker – he wrote, played & sang every note! He is truly a one man band!
Incredible! It's no wonder that the GrifFAN Army digs that CD like they do!
Don't think "Believe It" was an album that he wrote in a short time. A lot of time & passion went into making it – for example, "Light It Up" and "Some Kind of Love Song", were at least 3 years in the making. They each went through major changes until he knew they were just right. He kind of did that with each of these songs to some degree, because it was important to him to put the right songs on his first album. He knew it needed to be a strong representation of who he is as a rock artist; and each song on that CD captures his vision and his sound perfectly! "Believe It" is without a doubt his favourite on that album & will probably always be. It is definitely one of his favourite songs ever to perform live!
On "Believe It" Griffin re-recorded his original song "Girlfriend". This doesn't mean that he will do his other songs that were released before "Believe It" as well. He's proud of how all of his songs sound so he probably won't re-do any of them. He only re-recorded "Girlfriend" on "Believe It" because he was only on vocals and the guitar solo for the original version. He wanted to have a version where he was playing everything, which would naturally make it sound more rock and less pop.
This year Griffin switched from regular schooling to home schooling. It has its benefits and its downsides. Now that he's started home schooling, he's been able to dedicate full days to recording his new songs, and also perform live more. However, he definitely misses his friends. Luckily, he is blessed to still be in the Praise and Worship band at his school, so he still sees most of them and he couldn't be more grateful for that!
So, What's Next?
GrifFANs will be thrilled to know that Griffin is back in the studio making new music! His new songs will reveal amazing artistic growth yet each stays true to Griffin's unique rock sound. Even better news – in 2019, the GrifFAN Army will get to pick his next all out production video! Until then, listen to all his music on ReverbNation, ITunes & Spotify & watch his incredible videos on YouTube.
His latest single was released on December 1st and the details and links can be found here as well. The music is different from "Believe It". The song is a departure from his rock roots. For those that know Griffin a little longer won't be surprised he loves contemporary Christian music too. And that's the kind of music his next single is.

Griffin Tucker – Beautiful Disaster (Official lyric video)
You can find the song here:
Griffin was also featured in two magazines, "Ion Indie Magazine" and "Highwire Daze". Jeff Popka and Ken Morton did an excellent job on them. Griffin has updated his website to include all the great articles that have been written about him so definitely check them out.
Follow Griffin on the following sites: